How Interactive Bots Transform Customer Service in the Aviation Sector!
A total of 65.721 M passengers traveled by Air domestically in India during the period of Jan-Jul 2017 (Source: DGCA). Throughout the lifecycle of the traveler, from planning the travel phase to post travel interaction, the passenger visits various websites and channels to interact with their Airline.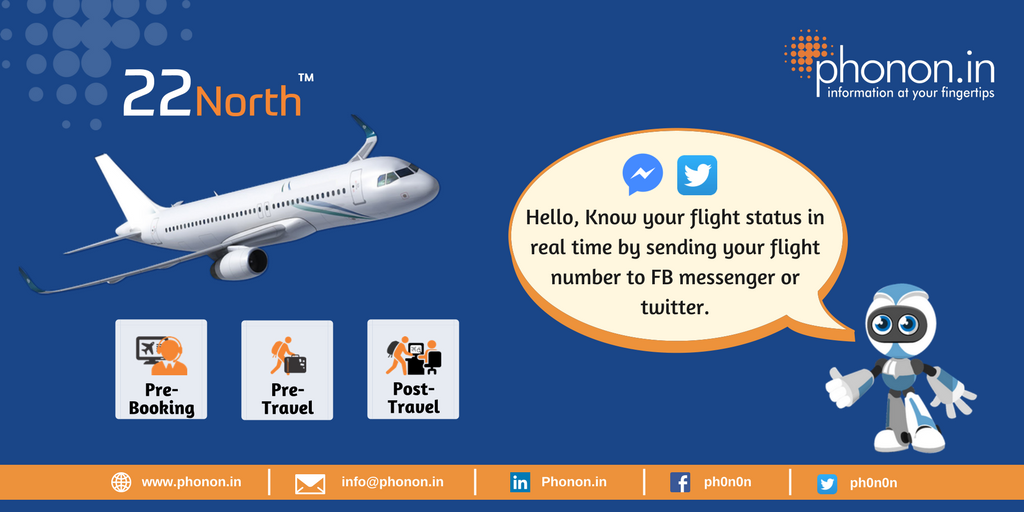 For Example, Online travel Agent's website to compare fares, Airlines website to book a ticket, web check-in, Google or other open source websites to check flight status and call centers for other queries. What if there was a one-stop solution to address all these needs of a customer from a channel where they are already active, FB messenger and twitter?
Presenting Phonon's interactive bot, "Trixie" based on Natural Language Processing and advanced Artificial Intelligence. No more hashtags, no more keyword based query resolution. Simply talk to our bot the way you would with anyone else. As an air traveler, what better experience than having all your queries and requests addressed in one place. As an Airline, what better way to cut down on costs by providing 1-step resolution to all their customers without inflating call center costs?
Facebook and Twitter are a part of daily digital life for millennials. It is a platform which already connects with the major population of the world. It enables brands to communicate with the customers in their comfort zones and in turn enable personalized content delivery and meaningful conversations with customers.
What makes an Interactive Bots a great experience for travelers?
Personalization: Advancement in data science and analytics will bring personalization and predictive assistance capabilities
Seamless Interaction: AI responds with the most relevant answers by recognizing similar phrases & entities from customer's questions
Quick customer resolution: Customers' consultation on FAQ's will become easier
Easy accessibility: 24/7 support with easily accessible source that helps customer any time, any where
User Friendly & cost effective
Decreases operational costs by reducing the number of calls, SMS & email to support required. Not to mention, it will be able to cut down call center resources to a minimum
Doesn't need a grammatically correct sentence for the system to understand
Multi-channel & Multi Lingual
Wouldn't it be great if you can ping your airline on Facebook messenger and know about your flight status in real time? Not just that, you can also get an information on Fares. Phonon.io makes it happen for Aviation & Travel Sector.
In short, Interactive Bots are almost certainly going to be the next wave of change in Customer interaction. This is the change the world needed in delivering "information at your fingertips".
If you haven't tried phonon's interactive bot aptly named "Trixie" yet, you can start by talking to our Facebook messenger "22North by Phonon.in Trixie – @spotmyflight" or just tweet your flight number on @Spotmyflight or call us on 099787 46666 & say your flight number to get instant flight status.