Intelligent IVR
A prompt, intuitive, and personalised IVR (Interactive Voice Response) System to answer all your customer queries.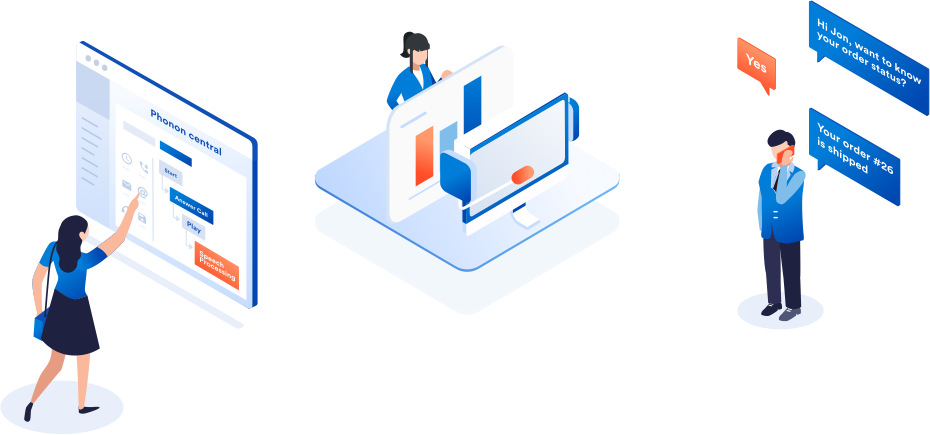 Features
Personalised & Multilingual
Personalise your IVR experience. Respond to your customers in their preferred language. Provide outstanding user experience with relevant conversations that resonate with your customers.
Predictive Analysis
Powered by world-class Artificial Intelligence and Machine Learning tools, Phonon's IVR solution predicts what your callers are looking for even before they say anything. It also helps shorten the call duration by delivering the right message at the right time.
Easy to Use Flow Designer
Designed on a user-friendly and intuitive flow designer, Phonon's intelligent IVR flows are not only easy to configure but also have the flexibility to make changes quickly and efficiently.
Speech-to-Text & Natural Language processing
Give your callers multiple input options. Phonon's intelligent IVR have the capability to process both DTMF or Voice input from the callers.
API Integration
Integrate different business processes and numerous data sources to your IVR using easy API integrations.
Reports & Analytics
With the help of our customised reports and analytics dashboard, you can monitor performance, gain insights, fix problems, and achieve a competitive advantage.
Types
Dynamic IVR
Give your customers personalized and contextual service by changing the call flow based on explicit or implicit context provided by the caller.Avail the flexibility of a cloud based or on premise set up to suit your needs.
Predictive IVR
Use our machine learning models to anticipate the reason for the customer's call. Reduce average handling time (AHT) and increase customer satisfaction by skipping the routine IVR and going to the right point of resolution instantly.
Overflow IVR
Deal with your fluctuating call volume by setting up a replica of your current IVR that gets triggered when you exhaust your channel capacity. Plan for contingencies by using overflow IVR for efficient disaster recovery.
Payment IVR
Provide your customers a seamless payment process for the products & services availed with the help of Payment IVR. Integrated with the merchant sites, Phonon's payment IVR provides hassle free payment process.
Voice Bot
Phonon's voice bot enables callers to use everyday language to solve their queries. Our Voice Bot combines natural language processing and machine learning to ensure higher accuracy in detecting the customer's intent and responds intelligently.
Visual IVR
Are your customers too busy to call on a number? Are they more comfortable typing their query on a text based interface rather than on call? Give your customers an easy to use text-based IVR interface and reduce the load on your telephony systems.
Request for a free diagnostic of your automation quotient and demo
Request a Demo