Phonon's a Red Herring Top 100 Asia 2016 Winner!
Announcement:
Phonon is happy and humbled to be announced as a Red Herring Top 100 Asia 2016 Award Winner. The award is in recognition of the leading private companies from the region, celebrating these startups' innovations and technologies across their respective industries.
"In 2016, selecting the top achievers was extremely difficult. The variety, depth, disruption and traction we saw from the early stage companies to those with significant scale made it one of the toughest vintages to judge." said Alex Vieux, publisher and CEO of Red Herring.
"This award is a testament of the continuous team efforts our team and the able leadership of the management who have been leading from the front. Being a Gujarat-based company, it's all the more a matter of pride for Phonon.in. It reinforces our concept that IT companies need not only be based in the traditional IT hubs of India", said Ujwal Makhija, Chief Executive and Managing Director of Phonon.in.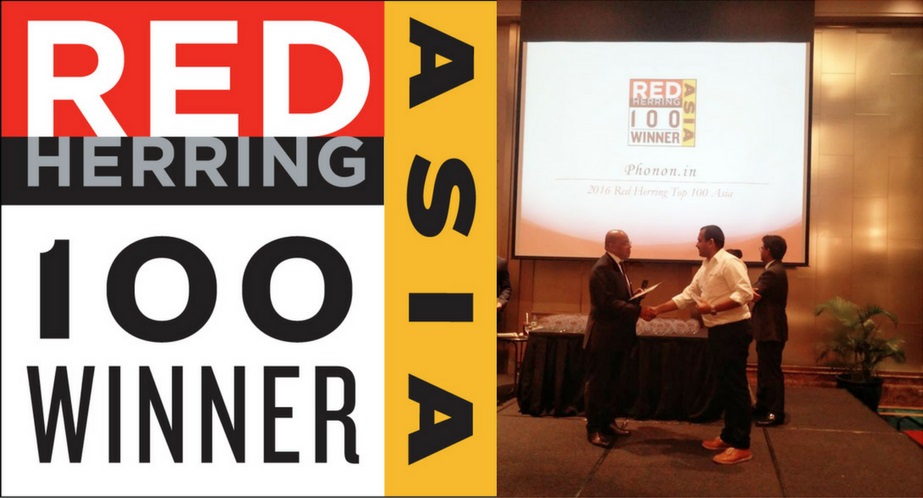 Red Herring honor affirms our instrumental role and successful track record, in enabling the evolution of cloud telephony solutions to automated unified communication via. SMS, Voice and Email.
We hope that this achievement shall be a stepping-stone to achieve many more accomplishments in future.
About Phonon:
Phonon's Unified Communication systems portfolio consists of Click-to-Call™, Outbound Unified Communication Systems and Inbound Customer Service Automation Solutions. Our recently launched service of Dealer Connect gets customers to easily connect with most relevant dealers in distribution based businesses.